RETORT AND CHAMBER FURNACES FOR CONTROLLED ATMOSPHERE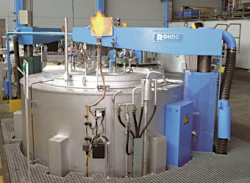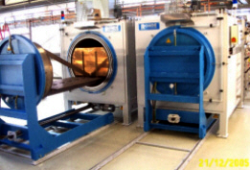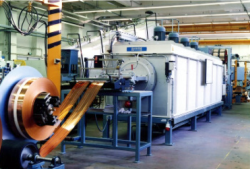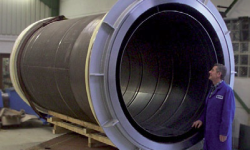 ROHDE furnaces are designed according to customer needs. Energy consumption is very low and heat-up and cool-down times are very short due to good insulation and extremely low heat storage. The temperature constancy values inside the retort are optimal.


We offer a variety of sizes from small laboratory furnaces to capacious production lines
Retort diameters from 300 to 2500 mm (other sizes available on request)
Retort depths / -lengths 400 to 5000 mm (other sizes available on request)
Working capacity temperatures up to 1150°C. Special equipment for higher temperatures is available on request
Quenching options: oil, water, salt bath
Quick gas cooling with external heat exchanger, suitable also for hydrogen
Process visualisation through program controllers and control systems
Software development for nitriding and gas-carburising processes
Vacuum pumps for evacuation of the retort before the start of the treatment
Gas and electrical heating




TREATMENTS
Gas-Carburising
Annealing
Tempering
Brazing
Nitriding
Nitro-Carburising
Sintering
Special Processes

GAS
Nitrogen
Argon
Forming Gas
Ammonia
Hydrogen
Endogas
Methanol
Water Vapour
BRINE – EVAPORATOR SYSTEM TYPE VH FOR AS-SALTS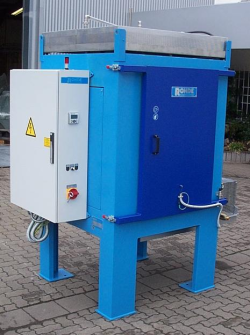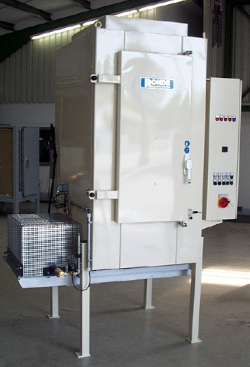 There are different ways to retrieve the quenching salt, which is recovered by ROHDE-Evaporator-Systems. Therefore, the individual circumstances and preferences of the customers have to be considered.

The following possibilities are available:
Salt exhaust through a non-heated pipe – into a collecting tray located under the evaporator
Heated pipe in order to reintroduce the salt directly in the bath


FEATURES OF THE EVAPORATOR - SYSTEM
100 % water-free, liquid and clean quench salt
No waste management costs due to reusability in salt bath
No special pumps needed, salt drains off freely
No waste management costs as condensed water can be reused for washing
No air pollution
Automatic 24/ 7 continuous treatment
Re-use of water no containing salt
Low energy consumption due to energy recovery
AS salt recovery in liquid, solid or granular salt
Standard models for 35 litres/hour and 50 litres/hour


FURTHER OPTIONAL ACCESSORIES
heated discharge pipe
bigger condensate-tank
condensate-pump
salt collecting trays
door switch
integration into customer's automation system through potential-free contacts
PROCESS VISUALIZATION AND CONTROL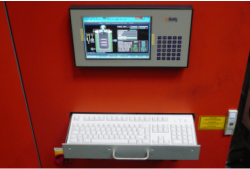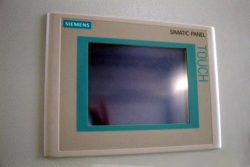 We utilise all common program controllers for the automated and reproducible run of different processes. We are not bound to any defined product. Depending on the existing infrastructure and the already introduced systems we can fulfil your individual demands State-of-the-art controllers naturally enable us to carry out a remote maintenance at your equipment.

We will pleased to send you a quote to update and revise controllers at your existing equipment according to state-of-the-art technology:
Program controllers
SIEMENS S7
Display
Integration
Industrial Ethernet
Remote maintenance via modem or VPN-connection .
through Internet
Process control systems
Maintenance
Update
Retrofit
ROHDE ONLINE DIFFUSION SYSTEMS FOR GAS-NITRIDING AND NITRO-CARBURISING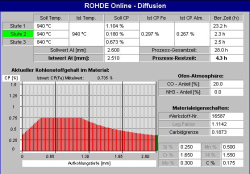 The software we have developed for online diffusion can be utilised for standard gas carburising processes as well as for carbo- nitriding processes.
For any carburising depths between 0,2 – 10 mm the program initially calculates on the basis of the material a proposition for a treatment program and predicts the duration of the complete treatment.

The program then suggests a multistage process whereas in the first stage the C-level is calculated automatically depending on the carbon activity (carburising near smoke limitation). In the balancing stage of the diffusion the C-level is automatically adjusted in order to achieve the desired C-concentration in the surface.
ROHDE CONTROL SYSTEM FOR GAS-NITRIDING AND NITRO-CARBURISING PROCESSES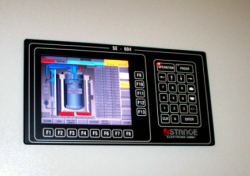 The core of the system is a sensor developed to supervise the ammonia decomposition due to a thermodinamic unbalance.

The system enables us to achieve reproducibly the requested nitriding depths and at the same time to distinguish between gamma and epsilon-layers. Furthermore our control system is able to control nitriding depth and compound layer.